Franchise Direct Releases 2020 Edition of Top 100 Franchises Report and Ranking
🕒: Three minutes
Franchise Direct has released its 12th annual Top 100 Global Franchises ranking, an in depth and thoroughly researched snapshot of the past year in franchising through the lens of many of the world's biggest internationally-operated franchise brands.
The 2020 edition sees McDonald's stay top of the rankings once again for the fifth year running. However, the fast food giants place wasn't as assured as it was in previous years. It had to fend off close competition from rivals KFC who are gaining ground due to their overseas openings and efforts to court vegetarian customers via plant-based chicken trials. The Top 3 is rounded out by hotel conglomerate Marriott, who experience their seventh consecutive year of growth in 2019.
Other notable franchises who appear in the Top 10 are Circle K, Pizza Hut, Domino's Pizza, SUBWAY, and Burger King.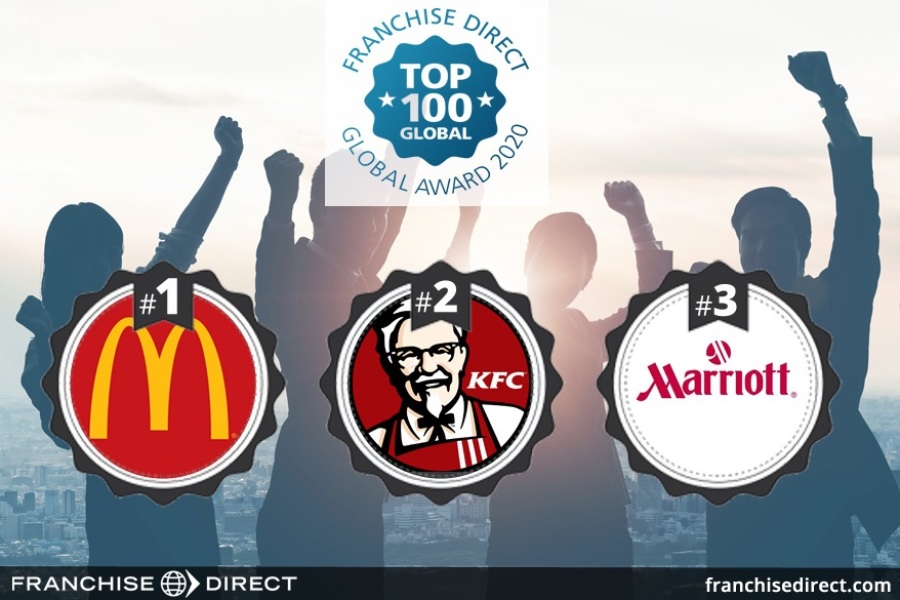 Speaking about the release of the rankings, Ben Wrafter, CEO of Franchise Direct said; All effort was taken in finding the most accurate data possible. Data is gathered from company submitted data, financial filings, franchise disclosure documents, and other published industry sources. The data collected for each franchise is then entered into a proprietary computer formula which makes the outcome as objective as possible".
In addition to the Top 100 Ranking, the Top 100 Franchises Report was also released, which includes interesting tidbits on selected franchises to inform readers on news or events they may have missed out on throughout the previous year in the franchise industry. Each year since 2009, Franchise Direct has released the report and rankings. To be eligible, franchises must be operating in at least two countries.
"What makes the Top 100 ranking and report so incredible is just how diverse and in-depth it actually is. Almost every industry is represented. It takes a lot of work to put something like this together but we really are incredibly proud of it," Mr. Wrafter added.
For the first time, the Top 100 Report shines a spotlight on Franchise Direct's latest franchise portal offering: Franchise Direct Australia. The report provides an interesting insight into the Australian franchise market as well as providing a number of tips franchisors should keep in mind if considering an expansion to the "Land Down Under."
To see the full list, visit: https://www.franchisedirect.com/top100globalfranchises/
<h4>To find your perfect franchise, take a look at the wide range of opportunities in our A-Z Directory.</h4>